42″ (107 cm) TimeCutter® SW4200CE (74676)
with Smart Park™ Braking System
24.5 hp Toro Commercial V-Twin 708cc engine w/Self-Cleaning Air Filter Housing
42″ (107 cm) High-capacity mowing deck provides superior cutting performance in all conditions
Smart Park™ Braking System – Toro's unique braking system automatically stops the mower deck and sets the parking brake when you need to get off the mower while keeping the engine running
Adjustable steering column to maximize comfort for any operator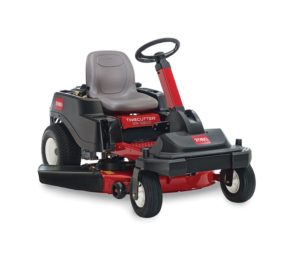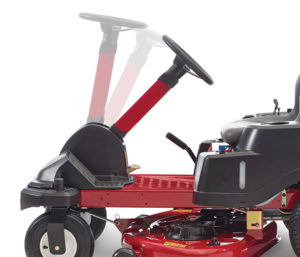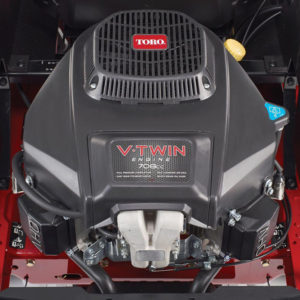 Toro's innovative TimeCutter® SW is the perfect blend of a zero turn mower and lawn tractor. You get the controls and side hill stability of a lawn tractor with the maneuverability and time savings of a zero-turn lawn mower. The redesigned cutting deck will leave your lawn looking perfect.
The TimeCutter® SW4200 42 inch 24.5 hp Toro Commercial V-Twin 708cc w/Self-Cleaning Air Filter Housing. This Zero-Turn Riding Mower has a 2–blade mowing system under a 4 inch deep, top discharge deck design with convenient washout port. The mower boasts 7 cutting positions between 1-1/2 in. and 4-1/2 in. in height.
Engine
24.5 hp* Toro Commercial V-Twin 708cc engine w/Self-Cleaning Air Filter Housing
Fuel Capacity
3 gal / 11.4 L
Cutting Width
42″ / 107 cm – 13 ga. 2 blades
Blade Tip Speed
17,810 ft/min
Engine Horsepower
24.5 hp
Engine Displacement
708cc
Height
45.4″ / 115.3 cm
Height of Cut
1.5″ / 3.8 cm – 4.5″ / 11.4 cm
Length
78.9″ / 200.4 cm
Seat
18″ (46 cm) Extra-Tall
Steering Controls
Wheel Steering
Tires
13″ x 5″ (33 cm x 12.7 cm) Front, 18″ x 7.5″ (45.7 cm x 19.1 cm) Rear
Transmission
Dual Hydrostatic HG-ZT2100
Washout Port
Standard
Warranty
3-Year Unlimited Hours**
Width
45.4″ / 115.3 cm – Storage Dimensions (W x L x H) 45.3″ x 78.9″ x 45.4″ (115.3 cm x 200.4 cm x 115.3 cm)
Disclaimer
*The gross horsepower of this engine was laboratory rated at 3,600 rpm by the engine manufacturer in accordance with SAE J1940. As configured to meet safety, emission and operating requirements, the actual horsepower on this class of mower will be significantly lower. We reserve the right to improve our products and make changes in the specifications, designs and standard equipment without notice and without incurring obligation.
**See retailer for warranty details.