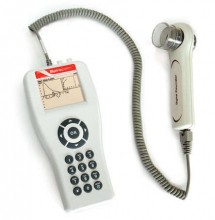 Product Description
Spiroplam 6MWT is a new medical device designed by COSMED incorporating the latest design for portable spirometry and a unique tool for the standardized "Six-Minute Walk Test" (6MWT). The versatility of the Spiropalm 6MWT allows a new way of measuring and reporting results for the Six-Minute Walk Test.
No more clipboards, stopwatches, lap counters or non integrated pulse oximeters. The Spiropalm 6MWT provides the customer with a complete testing package with an integrated pulse oximeter, along with the ability to measure ventilation during the test. With the integration of the pulse oximeter the technician will be able to monitor SpO2 during the Six-Minute Walk Test, but also to provide a complete O2 saturation report for oxygen prescription.
Features
– Real time testing for the standardized 6MWT (Six-Minute Walk Test)
– Measurement of minute Ventilation (VE) and Breathing Pattern during walking, Breathing Reserve (BR) with ventilation limitation statement.
– HR and SpO2 monitoring by Nonin technology.
– Evaluation of Dynamic Hyperinflation, with the measurement of Inspiratory Capacity.
– USB connection for external printer and PC software for data management.
Tests Performed
6 Minute Walk Test
– Minute Ventilation (VE)
– Respiratory Frequency (RF)
– Dynamic Inspiratory Capacity (IC)
– Dyspnea & Fatigue (Borg Scale)
– Breathing Reserve (BR)
– Oxygen Saturation (SpO2)
– Heart Rate (HR)
Spirometry
– Slow/Forced Vital Capacity (SVC-FVC)
– Maximum Voluntary Ventilation (MVV)
– Bronchial Dilator test.
– Bronchial Challenge test.
Measured Parameters
6 Minute Walk Test
Distance (m), 6MWW (Kg*m), SpO2(%), HR (%), T88 (=88%) (mm:ss), T (?SpO2 = 4%) (mm:ss), VE (L/min), RF (1/min), BR (%), IC (L), SBp (mmHg), DBp (mmHg), Borg Dyspnea (x.x), Borg Fatigue (x.x)
Spirometry
FVC, IVC, VC, MVV, VT, FEV1, FEV6, FEV1/FEV6, FEV6/FVC, PEF, PIF, FEV1/FVC, FEF 25-75, FEV1/VC%, %FEV1, MEF25%, MEF50%, MEF75%, FET 100%, Lung Age, ERV, IRV, VE, Rf, ti, te, ti/t.tot, VT/ti, Best FVC, Best FEV1, IC
Specifications
– Flowmeter: Bi-directional Digital Turbine Ø 28 mm
– Flow Range: 0.08-20l/s
– Volume range: 12 litres
– Accuracy of reading: ±2%
– Resistance: <0.6 cmH2O/l/s @ 14l/s
– Temperature sensor: 0-50° C
– Safety: Equipment complies with MDD (93/42 EEC); EN 60601-1 (safety) / EN 60601-1-2 (EMC).
Package Includes:
– PC software and user manual
– Flowmeter
– AC/DC adapter (110-240V)
– USB communication cable
– Carrying case
– Pediatricmouthpiece adapter
– Mouthpieces and nose clips
– Anti-Bacterial filters
– CD-Rom
– 6MWT Kit (pulse oximeter Nonin, silicon face mask,headcap, elastic belt and product holder)
– USB key storage